Brand localization (translation)
Brand book suggestions if needed
Sales /marketing team hiring
Brand production & storytelling in China
Exporting of goods to China
Expending local UAE market with chinese chinese target audience
Brand localization (translation)
Brand book suggestions if needed
Sales /marketing team hiring
Brand production & storytelling in China
Exporting of goods to China
Expending local UAE market with chinese chinese target audience
Desk research questions: why do I have to go to the Chinese market.
Advantages & disadvantages for my brand.
Quantitative & qualitative research questions (customers profile): how to find out more about the Chinese speaking audience, their habits according to my brand.
EXPERIENCED AND EFFICIENT DIGITAL MARKETING EXPERT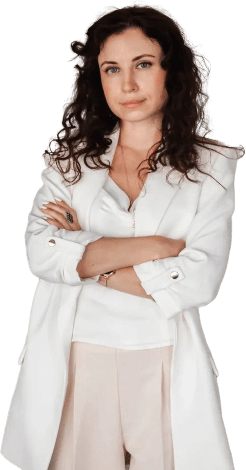 Tatiana is a marketing and digital professional since 2012. Tatiana founded china marketing agency Xiongmao Digital. Besides MBA, Tatiana has a Bachelors in Journalist and Sociologist Education and has over 5 years of experience with china digital marketing projects: Henley & Partners, Prime Property, Klytia Paris, IFFCO, Azizi Development, White Nights conference, Pixonic, Playkey.net, Unicaf University, Nanjing University of Post and Telecommunications, MacPaw and others.
Graduation: MBA, Nanjing University of Post and Telecommunications in Nanjing.
Udemy: China marketing courses Instructor
Projects founded: Mobiblade China in Europe, Xiongmao Digital in UAE
80+ successful projects for international brands in China.
Business areas: Nanjing, Shanghai, Beijing and Hong Kong,
Dubai, Cyprus, Moscow
Partners: Baidu in Beijing, Hong Kong, Shanghai, Alibaba in Guangzhou and Tencent Agency Network, Byte Dance (TikTok)
Xiongmao Digital Is A Group Member of SHOPFEVER
We are a team which is qualify & experienced with 10+ years global digital agency background. We served  +900 Clients from different industries.
Xiongmao Digital is a group member of SHOPFEVER, develops and manages numerous effective campaigns across the globe for SMBs and enterprises, both B2C & B2B, and all verticals from mobile apps, finance, FMCG, technology, travel & hospitality and more.